Post by mcgill on Aug 9, 2009 14:07:51 GMT
As you can see from pic below my leaf springs were visually in bad shape, these are from my coupe that hasn't seen road tax since 1986.
i checked the Y bushes and bush ion end of spring,they appear ok.
springs though covered in thick contaminated dirt/grease along with a corroded and missing spring clamps.
With springs removed from axle and removing the Y bush secured by 2 nuts (9/16 socket) I set about cleaning the spring down to have a proper look at what I had..
Due to the missing /broken spring clamps i decided to renew all 6 so everything was uniform (though I guess this isn't ).These I purchased from JRW, as you can see the come up a bit more heavy duty and taller in size.
Dismantling the spring using 7/16 spanners for the spring clamp cross bar,.the centre retaining bolt using thin walled 9/16 socket(recessed top bolt head) /spanner. Be wary as you come to the last few threads of bolt as the tension in the springs pops the nut off as leaf expands.
Inspecting the leafs for wear ridges and anything else necessary which didn't appear right, I found that the 2 of the 8 round nylon shims had excessive wear and either side of the centre bolt holes was light rust flaking ,which came the from the underneath of the spring above it, they're the shiny bits in the picture. I removed the 8 nylon shims which push out of there locating holes. For a better inspection I disc flap wheeled all the springs, removing grime and flakes mentioned above.
Everything clean and looking ok, (to me),I set about fitting the new spring clamps.these are hot riveted onto the leaf,so not having the tools to do this I farmed the job out to a blacksmith local to me.( or I guess any engineering steelworks).
NYLON SHIMS!
Whilst springs at blacksmiths my thoughts turned to how am I going to replace the worn shims!
I believe these are no longer available.
Club members GlennR ,Warwick,Miguel, Philnottingham have extensively and technically looked into resolving this problem. Answers from having fresh batches of shims made/finding cars that use a simular shim system/making your own from suppliers of nylon sheet/pipe. ALL these problems /solutions can be found by searching the members above posts…
right,too eager to try sons idea and wait for neighbour,ive had a go...heres my stepbystep of home made shim..Here,s one of my knackered shims below
i traced round the edge of old shim onto wifes tupperware (polypropylene/polyurethane) and marking the centre where the nipple should be placed and cut out
then cut the nipple off original shim
this bit is fiddly but you get the idea,switch on the gas cooker and holding the nipple by edgein pliers hold nipple over the flame until the underside of nipple just catches on fire!!!
whilst nipple on fire just and be quick i placed the nipple on new disc and pushed the nipple hard as i could in disc,as too melt together
let cool and bend the disc various ways to ensure the nipple has affixed.i taped with hammer and prised with knife to see if i could dislodge the the nipple but it is well and truley on...heres the finished article
The following is my interpretation of the advice given by club members on the subject along with my own slant on the problem solution.i only intend to do these springs once in a very long time…
REASSEMBLE
With the springs now back and new shims made,time to put the back together.I cleaned the leafs with spirit and painted with hammerite smooth black the parts of the leafs that I know will be exposed to road and elements and would not be protected by the messures I would take.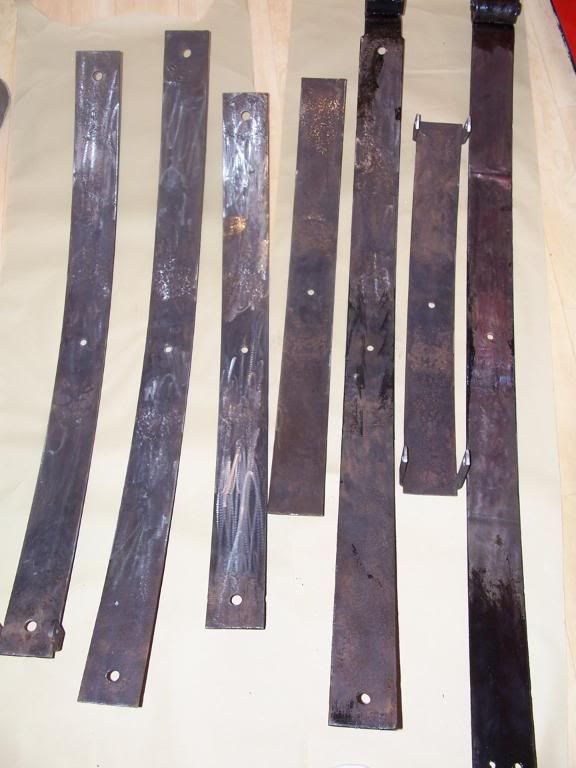 I painted the leafs in a special (25 year supposibly non rust) solution.JENOSEEL.(I guess the springs could be left unpainted,but ive used this stuff on all my bare metal.)
Using a thick Graphite grease I lightly applied to leafs where shims would relocate.
I noticed on disassemble that the nylon shims(in my case) had worn in process from the top leaf to lower leaf which looked almost new, so on assemble I fitted the shims in reverse order,leaving my home made shims for the lower springs.I generously coated both sides of leafs/spring clamps with graphite grease,and placing them as I went. I did not grease the top of the upper spring or the bottom side of leaf 7(as I still need to handle spring) or auxiliary lower spring as I had painted with hammerite as this was not to be included in the next step of my process.
I knelt on springs and centralised the centre bolt hole and reassemble the leaf clamps with spacers and liberally covered clamp bolts/centre bolt/washers with copper grease.i refitted the centre bolt (temporary)to keep the 7 springs in tension while I proceeded with next step.
The next step is personal preference and involves extra protection of the leaf spring using a heaverly greased woven cloth tape Denso/Premtape(other manufactures out there I guess).Some simply do not use this step, some cover all 8 leafs,some leave out the tape on the centre 12 inches .Due to the flaking corrosion I found in the centre region of my springs I decided to cover the whole lengh of my springs in greased tape.IMPORTANT! You will use approx 10 mtres on each spring!!!!(important to me,I thought 10 meteres which is on a roll would do both …WRONG got to order another roll).Apply grease tape as per instructions to your tape !!Heres one I made earlier …(ignore the clamp)
Now because I left the auxiliary spring off ,I had to refit. using two clamp grips to keep the tension,I removed and refitted centre bold along with auxiliary spring.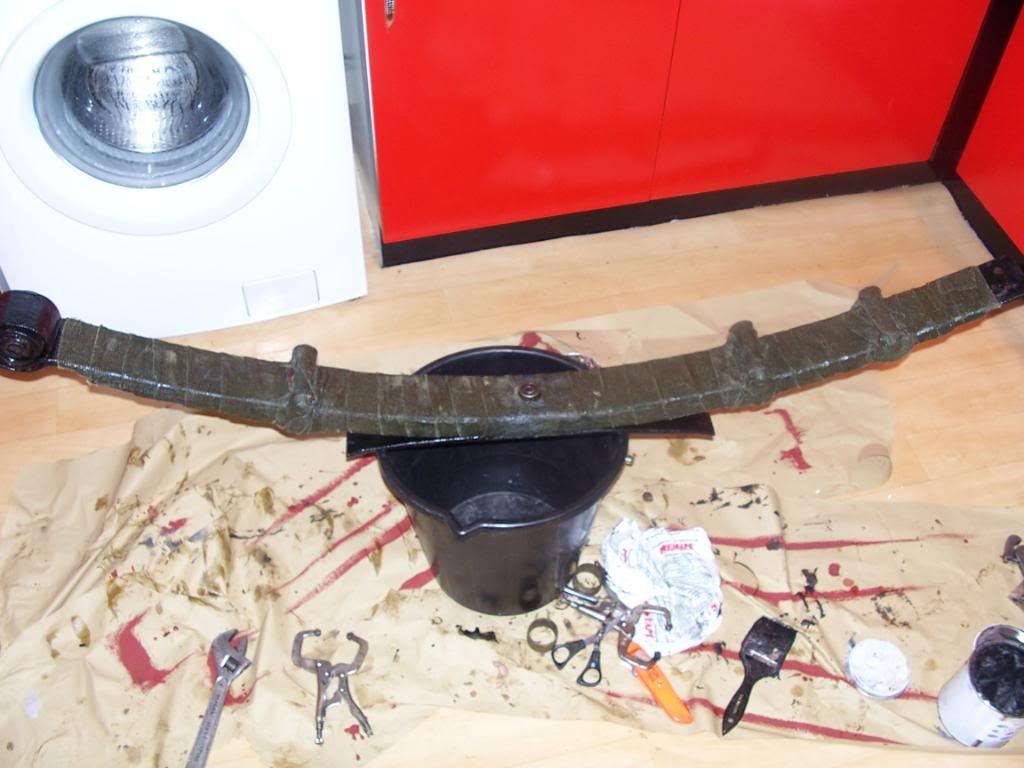 Now the next step is another optional preference.Leaf spring gators.Originally fitted over friction moving parts of leaf spring and packed with grease for obvious reasons.These can be purchased and repacked for original spec.I have fitted "gators" for two reasons,(1),so they "look" original spec and (2) when im under car I don't get covered in orrible super sticky grease from exposed tape.I cut two pieces of leathercloth vinyl,(I suppose better with leather) 16x 16 inches. Hard to explain next bit,so will let pictures show below.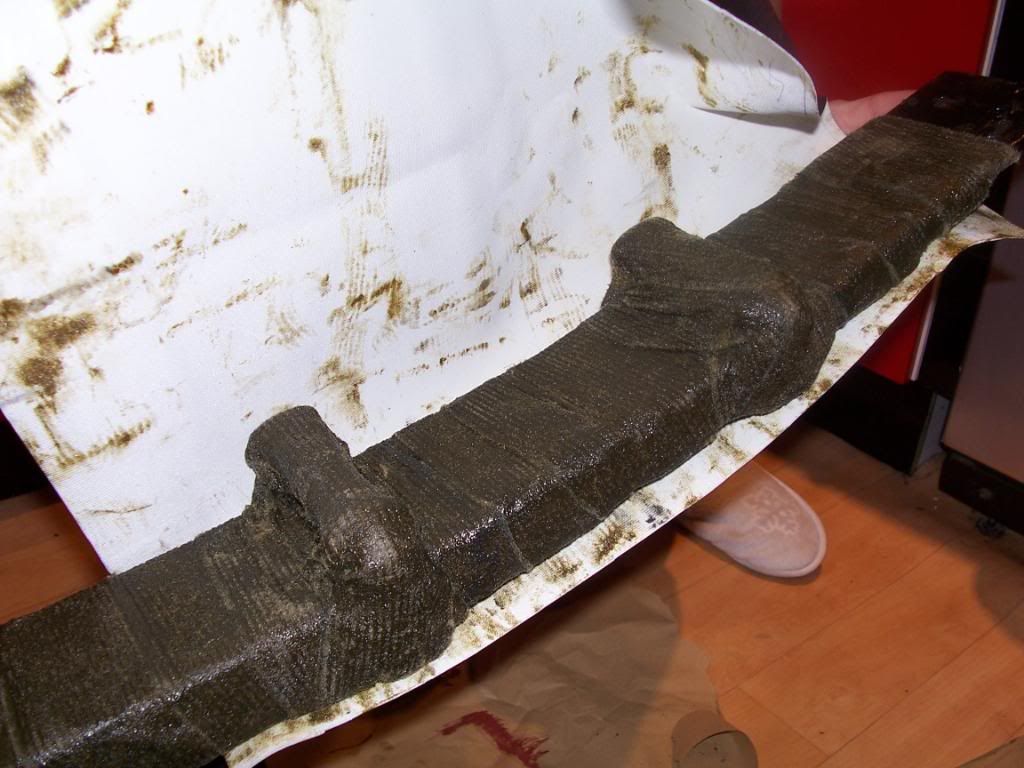 holding in place ,place cable ties around,just enough to grip gator, I did not fully tighten .l left lose so gator can be pulled into a tidy shape.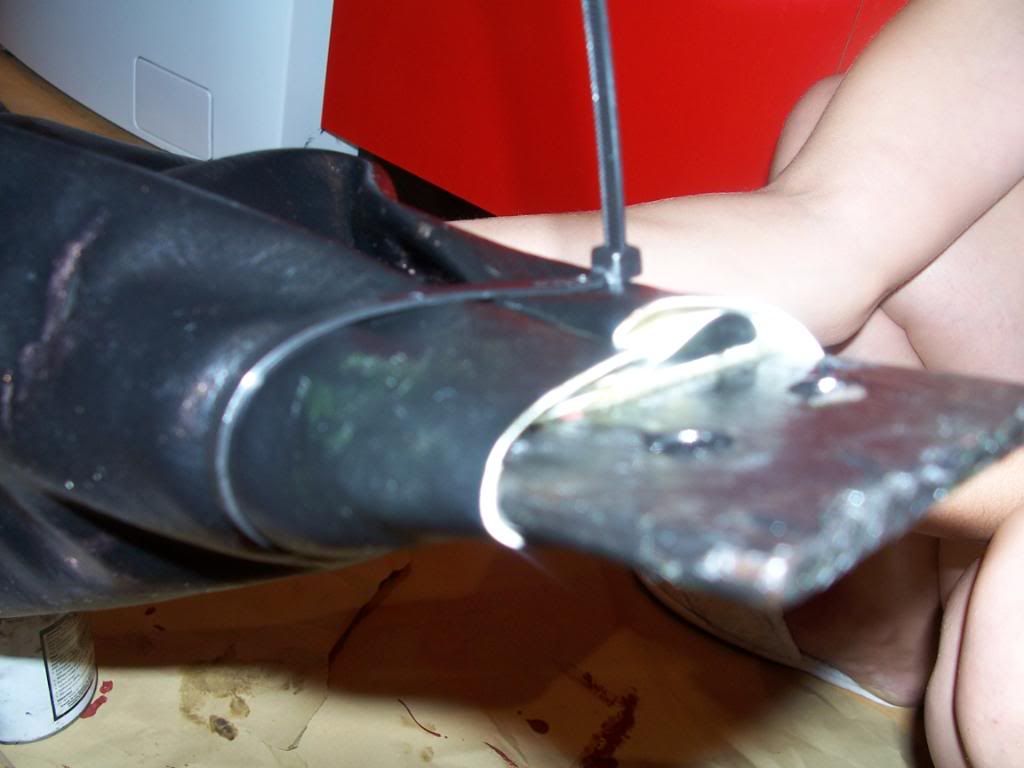 once in shape you want ,fully tighten cable ties.i doubled up on ties ,just incase…finished at last
.
if anyone can add anything to this ,please do so